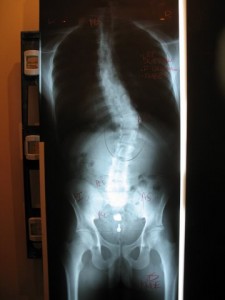 *my spine, circa 2008.
What's interesting to me is there is some semblance of a debate on health and nutrition when it comes to this sport.   In retrospect on my training, I really wish I had focused on this, because it would have saved my legs from the Chicago Marathon.  My thing is, there is a reason why science and medical advances exist.  There are experts out there who have done this before, so why not consult them?
There is also the notion of insurance, which is always tricky.  I'd prefer to have everything on record so that I don't die prematurely.  But I digress, some have recommended to me to find a way to find out everything without involving an insurance company.  On top of this, I'm sure that most doctors far and wide will lean away from anyone participating in long distance sports, but I digress.
One of the main reasons why I keep up with my health is because I have a plethora of ailments to which I have to pay attention to.   Mind you however, the worst of all these symptoms (asthma, insomnia in particular) actually got better the more I trained.  I never felt better than I did in my life almost two weeks before the Chicago Marathon.
As part of my training this year, I recruited various members of the health and wellness community.    Their expressed purpose is for peak performance during my training and racing this year.  Thankfully, most of these people are my friends that I've developed relationships over the years, and I finally get to use their services.
To start, I met with Dr. Michael Rosen, who practices out of West Loop Chiropractic here in Chicago.   I attended the clinic before for a back issue, but I never got a chance to see him for any of my training.   I chalk it up to being extremely busy during the summer, but I should have made time.    After a short re-acquaintance, I mentioned that I did the marathon last year, and what 'injuries' I had sustained during so.
Thankfully, I made the right call.   For starters, I run with orthotics in my shoes, which I received last year from Dr. Rosen.  I attribute having them to keeping my gait neutral and my heels from not hurting like hell.   It always surprises me during informal gait analysis clinics how many runners have shoes to compensate for an imbalance someplace.    What I didn't realize however was that while my gait is neutral, the rest of my body was compensating for an imbalance someplace else.
It was somewhat awkward discussing my eventual knee X-rays, but the bottom line is that I need to get an MRI.  Dr. Rosen stopped short of telling me that my endurance career is over before it started, but he did make some good remarks.  Along with one of my trainers, David Hardin, also mentioned the same hopeful good news.   I definitely have an 'instability' issue, and I have to focus on rehabbing (or pre-habbing in this case) my knees for the next 3 weeks or so.   I know that I've had tight hip flexors and quads, and regulary have IT band issues in the past.   From both Dr. Rosen and Dave, once I get in the swing of things, this will help all of that.
In the meantime, I have to put the brakes on my upcoming plans for the ING Miami Marathon and the Austin Half-Marathon.     Which sucks, but I'd prefer to come back stronger and ready to go.  In the meantime, I signed up for the Shamrock Shuffle, which I may later regret. . but I need to do something to jumpstart the sping.